You must select the colour and enter your machine make & model above to order
Fitted with the Maxi air-lifter which makes this ideal for extra-large sewing machines
Calypso Features Include:
Full length door hinge.
Fantastic, inspirational new door design which gives ultimate support for the lid/working extension to the left of you whilst providing unparalleled legroom and sewing/ seating position in relation to your sewing machine.
Fitted with our largest Maxi Lifter
Fitted with 8 casters ( 3 Lockable) for easy movement from storage to working position .
Door trays cleverly designed to optimise storage
Handy extra shelf under the Horn 3- step air lifter.
Flush mounted hinges.
Sturdy construction
The Calypso closes down to only 110 cm (43.5″) wide 56 cm (22″) deep 76 cm (29¾")
High and colour finishes available are Beech and White.
Centre of the needle sitting position, allows you to be directly in front of the needle when sewing.
Extra stable, open base construction; 8 easy rolling (3 lockable) castors, are attached to a specially designed reinforced frame.
3 step push down release maxi air-lift mechanism means a quick push down moves your machine from storage to flatbed to free-arm positions and will fit all domestic sewing machines on the market old or new!
Spacious, see through door storage bins make finding thread etc.. easy.
Door storage bins are recessed under the lid by means of a specially constructed angled door system this allows your fabric to drape down without catching or disturbing the door bin contents.
The work surface is fitted with flush mounted non snag hinges.
A large deep drawer with steel gliders.
Stores both a sewing machine and an overlocker. Or maybe a second smaller, portable machine….
Entire cabinet glides closed, and locks for child safety when not in use.
Handy storage holder for your machine insert.
Attractive soft formed edging finish to the tops.
Arrives fully assembled. The cabinet is beautifully finished front to back, inside and out.
Fitted with our Horn Maxi air-lifter! Ideal for the new extra large sewing machines, such as- the Bernina 700 & 800 series, Brother V series, Janome Horizon Range and Husqvarna Epic amongst many others but its not just for larger machines its also ideal for any size of domestic sewing machine!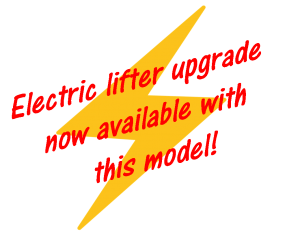 -
If you would like this model with electric lifter fitted then please contact us - total cost is £1679
A GUIDE TO HORN DELIVERY SERVICE. - these items are delivered from Horn UK Direct, not Couling Sewing Machines
Up to 28 days delivery
A brief explanation of how our delivery system operates: Stock availability allowing & unless otherwise stated, all deliveries using our own vehicles will be carried out within a 28 working day period starting from the day of us receiving your order. This is not to be understood that the delivery will actually take place on the 28th day of your order, this period is only meant as a general guide and should be viewed as the maximum period that your delivery might be, it may well be that it will take place sooner than this depending on when we are next in your area. Whatever period it is we will never arrive unannounced and will always give you notice of delivery by telephone usually giving a minimum of 3 days notice with not only the day of delivery but also with a 3 hour delivery slot on that day so as not to inconvenience you more than is necessary. With this, our standard service, your flexibility with time is needed and necessary to allow the delivery to take place with ease
Click here for additional delivery information e.g out of area and congestion zones